Deferred Gift Annuity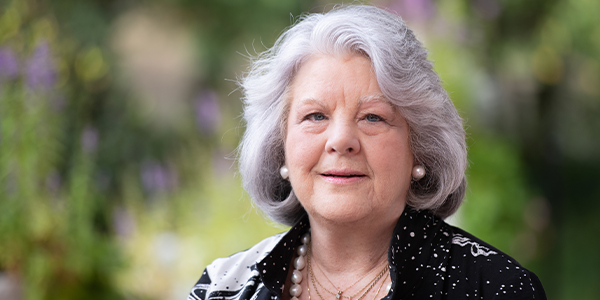 In her more than 50 years of membership, Pam Zimmerman has demonstrated what it means to "Be The First." She joined Alpha Delta Pi as a Charter Member of the Epsilon Tau Chapter at Middle Tennessee State University in 1969. This was a special experience for Pam. She remembers fondly how Maxine Blake, the Grand President at the time, as well as other International Officers and sisters from chapters across Tennessee traveled for their Chapter's installation and first initiation. This experience was only the beginning of Pam's commitment to Alpha Delta Pi.
In 1983, she became one of the first Alpha Delta Pi Foundation Trustees. Pam knew as soon as she was offered the position that she would take it. She had seen firsthand what Alpha Delta Pi could accomplish on its own and knew that the Foundation would provide additional support and resources for Alpha Delta Pi members. Because she understood the potential impact the Foundation could make, Pam immediately chose to support the Foundation with both her time and resources, working often to encourage her fellow Alpha Delta Pi sisters to do the same.
Later, when the Summit Society was established, she would also be one of the first to the make this commitment and join. At the time, she knew that any gift had the opportunity to make a difference. Since this first estate gift, Pam has continued to include the Alpha Delta Pi Foundation in her planned giving decisions, establishing a deferred charitable gift annuity in 2014 before she retired. Pam then established another charitable gift annuity in early 2020 after she retired. She considers this type of gift a "win-win situation," as it both supports the Foundation's mission and provides her an annual stream of income.
Most importantly, Pam is comfortable knowing her gift will leave a legacy for current and future Alpha Delta Pi Sisters. Pam shares, "If there is any possibility at all that anything I can do to make a difference or make something better for the organization in the future, then it all will have been worthwhile."
Is a deferred gift annuity right for you?
If you are interested in a charitable gift annuity but don't have a present need for the annuity payout, a deferred charitable gift annuity could be the right gift for you. When you fund the annuity, you can decide when you want to begin receiving the payments.
Contact us
if you would like to learn more about deferred annuities and how this gift could help you.
*Please note: Since your benefits may be different, you may want to
click here to view a color example of your benefits
.